To meet your needs, your general computing has grown "in a hurry" in a sometimes chaotic. Your information system has become cumbersome, or just not good enough, expensive, energy intensive and difficult to maintain. Green IT Consulting intends to review with you your overall architecture and redesign or evolve into a model eco-optimized.
Objectives
Our objectives for your system and network architecture are many:
Infrastructure Simplification
Increasing Virtualization
Economy of hardware and software
Rationalization of the use of IS
Decreasing energy consumption
Decrease the carbon footprint of IS
Information Systems are now essential to the smooth running of a company. Once considered a cost, the new technologies of information and communication technologies (ICTs) have become a tool for increasing productivity and improving the quality of services.
Means
To achieve the objectives defined above, Green IT Consulting has developed a portfolio of tools and solutions to even meet these requirements:
Intelligent Systems Virtualization
Fewer machines in the SI
Increase in the average life of machinery
Deploying standby / hibernation / off the PC
Replacement of old machines with models that "green" low energy consuming
Overhaul network running 24 / 24
Use printer group "green" and not replace individual printers
etc.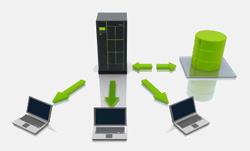 In our modeling of systems and network architectures, infrastructure we are establishing or reshaping all have one thing in common: taking into account their environmental impact. Thus, these are savings you and beyond, is the planet who benefits!