Primergy RX2540 M5
Up to 28 disks in 2U chassis!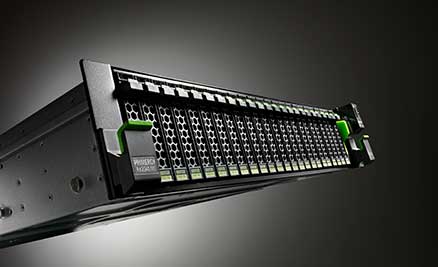 The FUJITSU PRIMERGY RX2540 M5 server is the new 2U dual-socket rack server offering the highest ease-of-use, scalability, cost-effectiveness and best energy efficiency in its class with 2 hot-plug power supply at 96% yield
RX2540 M5 Pictures
An ultra-flexible server!
The Fujitsu PRIMERGY RX2540 M5 is a 2U rack server that can accommodate up to 28 drives or SSDs in its chassis! Next-generation Intel Xeon dual processor, optionally equipped with NV-DIMM nonvolatile memory and Intel Optane technology, modular design, up to 8 PCIe Gen 3 expansion cards, 96% super-efficient power supply RX2540 M5 is intended to meet any eventuality.
In addition, DynamicLoM makes connections more flexible networks!
An increasingly green server!
In addition to two hot-plug power supplies to an efficiency of 96%, the RX2540 M2 is more environmentally friendly but also cheaper in the long term: reduced costs through lower energy consumption for air conditioning and food itself thanks to its advanced thermal design Cool-safe ™ allowing operation at higher ambient temperature.
Remember: a higher ambient temperature of 5 ° C can save up to 27% on energy infrastructure and cooling!
Key features
Dual processor server shipping Intel® Xeon™ processors E5 latest generation
Scalability up to 7TB of DDR4 memory, up to 28 hard disk drives and 8 PCIe Gen3
Pack iRMC Advanced Video Redirection Advanced (AVR, Advanced Video Redirection) optional
Standard 3 year warranty
Energy efficiency of power 94% / 96%
Optimized for professional applications, cloud computing and virtualization
Maximum productivity and scalability in a compact 2U enclosure

Download the Fujitsu RX2540 M5 brochure