Esprimo Q956
The state of the art PC!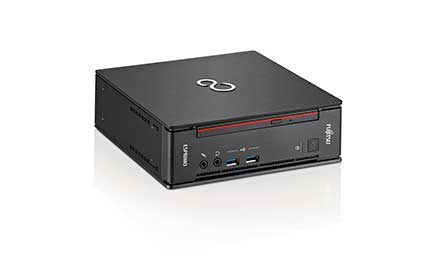 The Q956 offers excellent performance, optimal energy efficiency and outstanding administration.
Q956 Pictures
A modern PC!
The Fujitsu ESPRIMO Q956, Q920 successor, is already a success: he took everything that was the appeal of its predecessors: size, reliability, power and very low power consumption; but that's not all!
Equipped with Microsoft Windows® 7 or 10, the Q956 supports up to 32 Giga RAM and can be equipped with an SSD for maximum performance. Thanks to the innovative active low power mode, you're ready for instant communications of the modern office.
An ergonomic PC!
Equipped with Intel processors 6th generation and a high-efficiency power, it allows a horizontal or vertical operation with integrated VESA support, service door for easy updating of the main components. The Q959 is of course certified by the rigorous organization EPEAT: he was awarded the Gold level!
Enjoy working more open space and quiet thanks to the zero function PC noise and compact size of the ESPRIMO Q956 FUJITSU!
Key features
6th generation Intel® Core ™ processors with Turbo Boost technology and Hyper-Thread
Genuine Windows® 7 Professional or Windows® 10 Pro
PC fully equipped with a volume of about 2 liters: has the standard desktop PC technologies
Innovative active mode and low power supply with highly effective energy efficiency
Easy integration into the existing infrastructure at the user
A modern design that is eye catching
Efficient work environment through an open office

Download the Fujitsu Q956 brochure